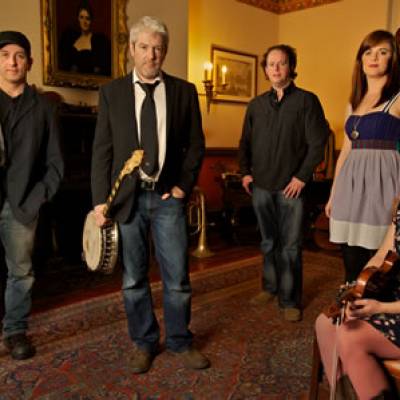 Event Description
Shamrock City Join Solas, "Irish America's most influential band" (NPR's The Thistle and Shamrock) as they celebrate the release of Shamrock City, their 11th album and most ambitious project & live show to date. A family story of immigration, mining and murder, and the remarkable history of Michael Conway & Butte, MT, Kim Ruehl of FolkAlley.com calls it "a deeply thoughtful, imaginative collection of songs which grapple with the wealth of ideas and emotions inherent in the immigrant journey". Well-known as genre-crossers, special guests on the album include Rhiannon Giddens of GRAMMY Award winning old-time string trio Carolina Chocolate Drops & Aoife O'Donovan of nu-folk trailblazers Crooked Still.
The Shamrock City live show, an interactive multi-media stage show that features stories from and projected images of Butte, is receiving rave reviews. Paul Keating, a longtime Irish music critic and founder of the Catskills Irish Art Week released this early review for IrishCentral.com: "Based on the performance this could be a landmark recording, and in some aspects it might very well be the best one they have ever done, which is saying something given the "supernova" status of their early years." Julia Crowley of Eugene Weekly says their Shedd gig was "amazing…excellent…a fascinating story."
About Shamrock City: In 1910, Solas band leader Seamus Egan's great-great uncle Michael Conway left his home in Co. Mayo, Ireland and boarded a ship for America. He was headed to the copper mines and boxing rings of Butte, Montana, aka Shamrock City (named so for the influx of Irish immigrants). Six years later, at the age of 25 and in a cloud of mystery, Michael was dead at the hands of local police.
Shamrock City as seen through the eyes of Michael, tells the story of the thousands of young men and women who left behind their homes and families for "the Richest Hill on Earth". It reveals their spirit, tenacity and humor, but also the hardships they faced: discrimination, corruption within the mining companies, an unknown and unforgiving land, a system that valued the few over the many. One hundred years later, it's their story, but the struggles of the working class and immigrants are the same. Shamrock City is for those then and now that believe in a better life, and are willing to risk it all for a chance at something more.
Solas
Solas is the quintessential Irish-American band recording and touring in the US today. Fifteen years ago, in a manner befitting their name (Gaelic for "light"), Solas burst onto the Irish music scene and instantly became a beacon – an incandescent ensemble that found contemporary relevance in timeless traditions without ever stooping to clichés. Anchored by founding members Seamus Egan (flute, tenor banjo, mandolin, whistles, guitars, bodhran) and Winifred Horan (violins, vocals), Solas is rounded out by Mick McAuley (accordians, low whistle, concertina, vocals), Eamon McElholm (guitars, keyboards, vocals), and newest member and lead singer, Niamh Varian-Barry. Through fresh and unexpected arrangements of age-old tunes, compelling and topical originals and covers, and unparalleled musicianship, Solas continues to define the path for the Celtic music world and drive the genre forward.
With ten albums under their belt, Solas' band leader Seamus Egan was inspired by his family history to create Shamrock City – their most ambitious project to date. Shamrock City tells the story of Butte, MT, a mining town at the turn of the 20th century, as seen through the eyes of an Irish immigrant and Seamus' great-great uncle, Michael Conway. In 1910 he sailed from Cobh, Co. Cork in Ireland to Philadelphia and then made his way to Butte to work in the copper mines. Six years later, at the young age of 25, he was dead from a blow to the head. With audio recorded in Philadelphia and film footage in Butte, Shamrock City seeks to not only uncover the life and young death of Conway, but to also illuminate life as an immigrant during the Industrial Revolution. With an EP of five songs available at gigs, as well as visuals and stories incorporated into the live show, fans will get a taste of the full album, to be released in early 2013.
It's no secret that Solas is often drawn to musical social commentary - "Pastures of Plenty" and "The Wind That Shakes The Barley" are core to their repertoire, and they've covered political songs by Bruce Springsteen, Tom Waits and Josh Ritter. The themes in and around Shamrock City, particularly the stories and lives of immigrants, are reflected prominently in the headlines of 2012. With the Shamrock City project and current tour, Solas seeks to reach beyond the music by creating opportunities for fans to share their family histories at tour stops and online. In the process, the project aims to create a more meaningful and open dialogue about many of the issues we face in today's America. For anyone who associates Irish music solely with pubs, green beer and March, be prepared to have your mind firmly changed.