The MONDO ZOMBIE BOOGALOO TOUR featuring:
Southern Culture on the Skids
with:
Los Straitjackets
•
The Fleshtones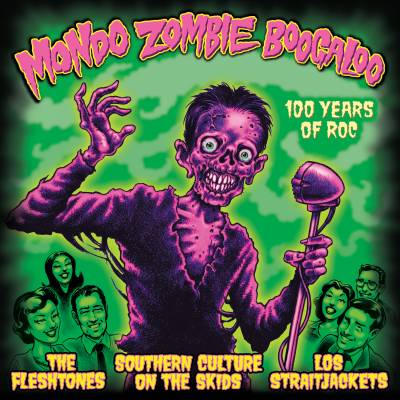 Event Description
Yep Roc is excited to announce Mondo Zombie Boogaloo, an album and tour celebrating Halloween. The album is a collection of new music from legendary bands The Fleshtones, Southern Culture on the Skids, and Los Straitjackets. The set includes originals and standards from each band and promise to put listeners in a spooky mood for the Halloween season. With songs such as "Ghostbusters," "Goo Goo Muck," "Haunted Hipster," and a collaboration by the three bands on"Que Monstruos Son" (otherwise known as "The Monster Mash" en Espanol), Mondo Zombie Boogaloo is sure to revive both the living and dead this Halloween.
Mondo Zombie Boogaloo is available on CD, digitally, and double LP on colored vinyl. The album cover features artwork by Steve Blickenstaff, known famously for his unforgettable work on The Cramps' 1984 album Bad Music for Bad People.
The Bands
The Fleshtones are garage rock standard bearers, mixing fuzz guitar and Farfisa organ sounds with rockabilly, '50s and '60s R&B to create a potent retro stew the group likes to call "super rock." The band formed in 1976 in Queens, NY, and have been killing it in live performance for more than 3 decades. The Fleshtones are vocalist/keyboardist Peter Zaremba, guitarist Keith Streng, bassist Ken Fox, and drummer Bill Milhizer and aimed to return rock & roll to the simplicity and unself-consciousness of the '50s and early '60s.
The Chapel Hill, NC trio Southern Culture On The Skids have been spreading the rock and roll gospel since 1983. Rick Miller – guitar/vox, Mary Huff – bass/vox and Dave Hartman – drums, play a greasy mix of surf, rockabilly, R&B and country fried garage with a side of psych. It's a musical gumbo Miller calls "Americana from the wrong side of the tracks". Over 30 years the band have toured everywhere from the NC Prison System to Mt. Fuji, Japan, delivering what Rolling Stone calls "a hell raising rock and roll party". The bands latest releases include 2010's The Kudzu Ranch and 2011's Zombified.
When it comes to delivering high-energy rock and roll instrumental music, no one equals the finesse, power and perseverance of Grammy-nominated group Los Straitjackets. Eighteen years ago the instrumental surf rock group first dressed in their signature attire of Lucha Libre masks and haven't taken them off since. The legendary surf rockers released their 12th studio album, Jet Set (Yep Roc Records) this past August to critical praise.